book travelling thursdays is a weekly meme created by danielle @danielle's book blog and catia @the girl who read too much. click here to visit the goodreads page for more information! all you have to do is to state why you chose this book, show the original cover, the cover from your country, your favorite cover, and your least favorite cover. this week's topic is: because we're never to old to believe in fairy tales choose your favorite re-telling!!
title: cress (lunar chronicles #3)
author: marissa meyer
rating: 5/5 stars
source: book depository//amazon//goodreads
genres: fantasy, sci-fi, romance
"Maybe there isn't such a thing as fate. Maybe it's just the opportunities we're given, and what we do with them. I'm beginning to think that maybe great, epic romances don't just happen. We have to make them ourselves." -Marissa Meyer, Cress
why i chose this book:
this entire series focuses on re-tellings with a sci-fi twist to it. i haven't read much re-tellings, so i immediately thought of this series. so, i decided to choose my favorite book in the series so far (i'm currently reading winter, the last book) which is cress.
original cover/favorite cover/cover from my country: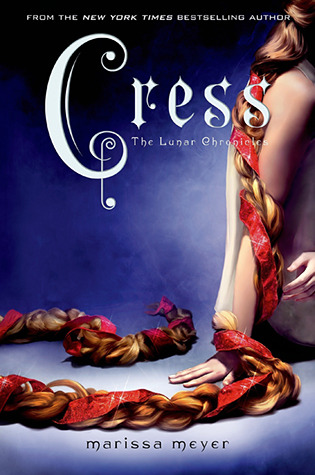 this is the cover found in my country which is singapore. it is one of my favorites but i have a few other ones i like even more ❤
more favorite covers:
the one on the left is the french cover and oh my god it's so pretty!! the one on the right is the swedish cover. both of them look a lot like fanart though and that's what i like most about it
least favorite covers:

the one on the left is the turkish cover and i'm just not a huge fan of covers with faces on them. the one on the right is the portugese cover and it looks more like a children's book than a YA novel
---
that's all for this week's book travelling thursdays post, hope you liked it! i'm about 1/4 done with winter and i cannot wait to finish it. i've heard some people say they cried a lot though, i hope nothing too bad happens 😦